Dave Z. Besson
---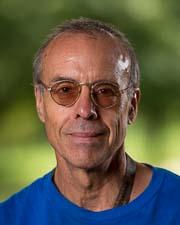 Professor
Research Interests: Experimental High Energy, Astroparticle Physics
Contact Info
Malott Hall, room 3093
1251 Wescoe Hall Dr.
Lawrence, KS 66045
---
Biography
—
2001-present: Professor, University of Kansas
1997-2001: Associate Professor, University of Kansas
1993-1996: Assistant Professor, University of Kansas
1990-1993: Postdoctoral Research Associate, Cornell
Education
—
PhD in Physics, Rutgers University, 1986
BS in Physics, Columbia University, 1979
Research
—
I am currently involved in several projects seeking to detect ultra-high energy cosmic rays (primarily protons or neutrinos) from either their radio-wave emissions or radar reflections, and at least one of which requires flying barbeque lighters at 38 km above the Antarctic continent. Within the last several years, funded by the Fulbright Foundation, the US CRDF program, and the Russian megagrant program, I have enjoyed a faculty co-appointment at the Moscow Engineering Physics Institute (MEPhI), and coordinated work on medical and astrophysical applications of silicon photomultiplies (SiPM's), as well as studies of anomalous charmed baryon correlations with the Belle and Belle-II experiments. To the extent that any of this has been successful, it is only because I've been exceptionally fortunate to be able to collaborate with talented and industrious students, who do all the real work that I take credit for. I would like to gratefully acknowledge support from the NSF, NASA, the Cottrell Research Corporation, the University of Kansas, the State of Kansas, the Civilian Research Defense Fund (CRDF), MEPhI, and the Fulbright Foundation, without whom I would be forced to get a real job.
Selected Publications
—
Please visit the Inspire HEP website for a list of my selected publications.
Awards & Honors
—
"Latin Award", Metuchen High School, Metuchen, NJ, 1979
"All-County Wrestling", Middlesex Co., Middlesex, NJ, 1979
"Top 25 Unsigned Bands", Rolling Stone Magazine, 1993
CLEO Collaboration Analysis Coordinator, 1990-1993
1st in age group, Race Around the World, South Pole, 2004