Siyuan Han
---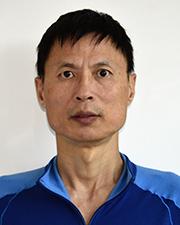 Contact Info
Gray-Little Hall, room 2112
1567 Irving Hill Rd.
Lawrence, KS 66045
---
Biography
—
2003-present: Professor, University of Kansas
1997-2003: Associate Professor, University of Kansas
1993-1997: Research Associate Professor, Physics & Astronomy, SUNY at Stony Brook
Education
—
PhD in Condensed Matter Physics, Iowa State University, 1986
BS in Physics, University of Science and Technology of China, 1982
Research
—
Quantum information science and technology, device physics and applications
Quantum information science, realization of quantum computation with solid state qubits, such as supercondting qubits based on Josephson junctions, and circuit QED.
Foundations of quantum mechanics. In particular, macroscopic quantum phenomena (e.g., Schrodinger's Cat).
Physics and applications of micro- and nano-scale devices.
Stochastic nonlinear dynamic systems.
The goal of our quantum computing project is to develop basic building blocks of a solid state quantum computer using superconducting quantum bits (qubits). In our case, a qubit is essentially a small ring of superconductor containing a Josephson junction. Electrical current in the ring flows without resistance (hence is called supercurrent) and in contrast to one's intuition the circulating current in the ring can flow in two opposite directions simultaneously - a direct consequence of quantum mechanics and one of the cornerstones of quantum computation. However, to maintain a qubit in such a quantum coherent state long enough for useful quantum computation is extremely difficult since interaction between the qubit and its electromagnetic environment can quickly destroy quantum coherence. Our objective is to identify and understand mechanisms of decoherence in superconducting qubits and to increase coherence time by optimizing qubit design, quantum gate implementation, control and readout circuits, material properties, and fabrication processes.
Awards & Honors
—
1981: Guomoruo Award in Physics, USTC, China
Memberships
—
Member, American Association for the Advancement of Science (AAAS)