Judy Z. Wu
---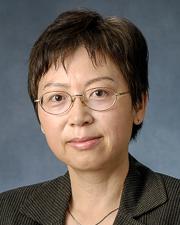 University Distinguished Professor
Research Interests: Condensed Matter
Contact Info
Gray-Little Hall, room 2114
1567 Irving Hill Rd.
Lawrence, KS 66045
Malott Hall, room 3083
1251 Wescoe Hall Dr.
Lawrence, KS 66045
---
Biography
—
2003-present: Professor, University of Kansas
1998-2003: Associate Professor, University of Kansas
2000-2001: Visiting Faculty, University of California, San Diego
1993-1998: Assistant Professor, University of Kansas
Education
—
PhD in Physics, University of Houston, 1993
BS in Physics, University of Science and Technology of China, 1984
Research
—
Thin films are the basis for modern microelectronics and a large number of technologies Thin films are also one of the most important tools for the preparation of novel materials. Although application oriented, growth and characterization of thin films has been an important subject for both basic and applied physics research. The focus of our research is on growth , characterization, and applications of various thin films including superconductor, ferroelectric and magnetic materials. While the size of electronic devices continuously decreasing into nanometer regime as predicted by the Moore?s law, nanoscience has emerged as one of the most prominent research areas in the 21st century. One of our new research focuses has been on growth of various nano-matters including nano-particles and nanowires, and development of characterization tools for nano-matter study.
Selected Publications
—
R.T. Lu, R. Kamal, and J.Z. Wu, "A Comparative Study of 1/f Noise and Temperature Coefficient of Resistance in Multiwall and Single-Wall Carbon Nanotube Bolometers", submitted to Nanotechnology, revisions submitted in March 2011.
Jianwei Liu, Guowei Xu, Caitlin Rochford, Rongtao Lu, Zhijun Chen, Victor A. Maroni, Tina Edwards, Cindy Berrie, and Judy Wu, "Graphene photonic crystal for broadband flexible transparent conductors", submitted (March 2011) 
R.L.S. Emergo, F.J. Baca and J.Z. Wu, T.J. Haugan and P.N. Barnes, "3-D landscaping of BaZrO3 nanorods in YBa2Cu3O7-δ", submitted (Feb. 2011). 
R.T. Lu, Z.Z. Li and J.Z. Wu, "High detectivity in individual multiwall carbon nanotube infrared bolometers", submitted (Feb. 2011).
R.T. Lu, C. Christianson, Jonathan R. Dizon, J. Z. Wu, T. J. Haugan, P. Barnes, and J. Baca,"Investigation of dynamic behaviors of low-level dissipation at YBa2Cu3O7-d grain boundaries using low-temperature near-field scanning microwave microscopy", to appear in IEEE Trans. Appl. Superconductivity 21 (2011)
P.N. Barnes, F. J. Baca, T.J. Haugan, J. Burke, C.V. Varanasi, R. L. Emergo, J. Z. Wu, R. Wheeler, F. Meisenkothen, S. Sathiraju, "Providing additional enhancements to nanoparticulate and nanocolumnar pinning structures", invited review paper, to appear in Physica C 
X. Wang, C. Timm, X. M. Wang, W. K. Chu, J. Y. Lin, H. X. Jiang and Judy Z. Wu, "Metastable giant moments in Gd implanted GaN, Si, and sapphire", to appear in Journal of Superconductivity and Novel Magnetism 
W. A. Jones, P. N. Barnes, M. J. Mullins, F. J. Baca, R.L.S. Emergo, J. Wu, T. J. Haugan, J. R. Clem, "Impact of Edge Barrier Pinning in Superconducting Thin Films', Applied Physics Letters 97, 262503 (Dec. 2010).
Zhen Tian, Ranjan Singh, Jiaguang Han, Jianqiang Gu, Qirong Xing, Judy Wu, and Weili Zhang,"Terahertz superconducting plasmonic hole array", Optics Letters 35, 3586 (Nov. 2010).
X. Wang, R. L. S. Emergo and J. Z. Wu, Javier F. Baca, T. J. Haugan and P. N. Barnes,"Eliminating thickness dependence of critical current density in YBa2Cu3O7-x films using BaZrO3 nanorods insertion", J. Appl. Phys. 108, 113911 (Oct. 2010 
Awards & Honors
—
2006: Kemper Fellow, University of Kansas
2002-present: SPS Advisor
Memberships
—
Member, American Physics Society (APS)